Trommelmengers voor de kunststofindustrie
07 jun 2017
Article

< 1

min
Lindor rotary drum blenders are increasingly often finding their way into the plastics industry. The 'gentle touch' mixing principle is suitable for a wide range of applications such as 'dusting' sticky granulates.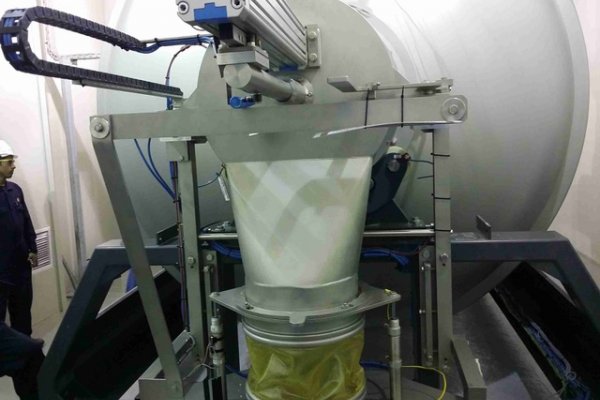 The gentle touch mixing principle of Lindor rotary drum blenders ensures that the quality of the components remains intact. There is little or no product break-up, dust formation and heating up. Thanks to the usually good running properties of plastics the mixing times can be short. This means that high capacities can be achieved, certainly in the case of a continuous mixing process. For example capacities of 5 to 15 (and even 20) tonnes/hour. An innovative option to simplify the production process for a batch mixer is the use of the mixing drum as a 'cyclone' in a pneumatic conveyor system. By creating a vacuum the granules can be aspirated directly from the silo into the mixer. Rotary drum blenders are therefore particularly suitable for many applications in the plastics industry.
Homogenisation
An important application of Lindor mixers is to homogenise quality differences in a granulate which have arisen due to variations in the extrusion process. For example a rotary drum blender with a capacity of 30 tonnes can take the production output of an extruder over a period of 8 hours. By homogenising this batch a granulate of constant quality is created.
Further treatment
Certain plastics (LDPE, HDPE, PU, PET) undergo a further process after extrusion, for example heat treatment or soaking in an organic liquid (such as a peroxide). These processes are carried out in twin-wall Lindor mixers where the conditions such as temperature can be accurately controlled. Sometimes these applications are so critical that the blenders are fitted with special seals to reduce product contamination to less than 1 ppm (parts per million).
Dusting
Some thermoplastics are so soft that they become sticky after production. To process these materials easily, they are dusted with a small quantity of anti-caking powder (such as talc). Such processes can also be carried out extremely well in rotary drum blenders. In one specific case, a capacity is reached of 5000 kg per hour with two small Lindor L500 KONTI mixers.
Gentle Touch mixing principle
The Gentle Touch mixing principle means product-friendly mixing. The components are fed into a slowly rotating, horizontal drum which is fitted with vanes on the inside. The components flow during the mixing process over the specially shaped vanes in both a radial and axial direction. The product is lifted to above the product level, then drops gently back onto it. The particles are constantly moving and each follow a random course. The intensive mixing means that homogenous distribution is achieved in only a few minutes. Liquids can easily be sprayed over the mixture. The particles move through the spray and absorb the liquid quickly and easily. After opening the outlet valve the product flows out of the mixing drum, conveyed by the vanes.