Lindor at the ANUTECH international FoodTec in India
For suppliers to the food and beverage industry, ANUTEC is one of the largest and most important trade fairs in India. This trade fair takes place from 27 to 29 September in Mumbai. Together with our partner FPT, we will be exhibiting our latest technological developments to the rapidly growing Indian market. Lindor and FPT can be found on stands A09 and B09.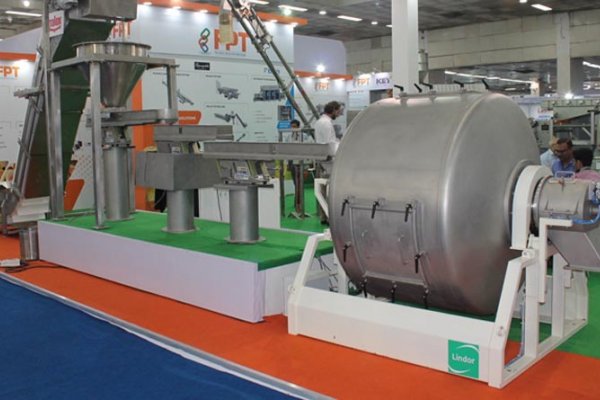 Our 'gentle touch' technology mixers are widely used in India to mix products such as snacks (the immensely popular savoury 'namkeen', among others), tea, instant drinks, bakery powders, herbs and spices. We will also be introducing for the first time in Asia, our latest test mixer, the L100 HCVP vacuum dryer and coater for mixing, coating, impregnating and drying under vacuum.
Vacuum dryer for testing
The L100 HCVP vacuum dryer has been specially developed to conduct tests at a Lindor test centre. This will give our customers the opportunity to test our vacuum mixing and drying technology.
Test mixer with a retractable inlet and outlet
The L500 test mixer is equipped with fluid injection, and retractable inlet and outlet. This makes cleaning and changing seals child's play.
Take a look at our Lab Mixer at work
The Lindor L10 Lab Mixer is our smallest mixer, with a maximum batch size of 10 litres. This mixer shares the same design as our full-size 350 to 25,000 litre mixers. The mixing results are scalable to the large production plants. This makes it an ideal testing and laboratory system for small batches. In addition, the transparent drum makes the mixing process clearly visible.
In this short video, you can see how our Lab Mixer mixes muesli.