Mixing of detergents and cleaning agents
18 Jun 2019
Article

< 1

min
Lindor powder mixers are highly effective when used with detergents and a variety of other cleaning agents and household products. Many of these powders are agglomerates and granulates where breakage and dust formation must be avoided. Whether these products perform correctly depends, in part, on ingredients that are sensitive to heat. When the product heats up, due to mechanical heating during the mixing process for example, this can affect how the detergent performs. In order to achieve the required result, an increase in the dosage will be required. In short, if the product does not heat up due to the mechanical action during mixing, less of it is required.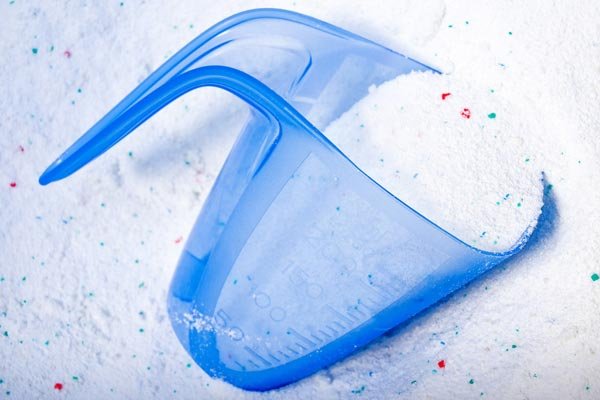 Our Lindor mixing technology is also very suitable for dosing and homogenously distributing liquids to a powder or agglomerate. The formulas for detergents and cleaning agents often consist of one or more liquids.
Using this mixing technology, the energy per kilogram of mixed powder is less than 2 Watts per kilogram. This soon adds up to a factor of 5 times lower than other mixing techniques. Often, excess energy is converted into something else, such as breakage, dust formation or heat. Or something else that is usually undesirable. The less energy, the fewer side effects, so the integrity and quality of the powder particles are optimally retained with Lindor's powder mixers.
Moreover, liquids can easily be added to the product in the Lindor powder mixer. The rotating drum ensures that the powder is always in motion.  A special nozzle or nozzles, ensures even distribution of the liquid over the powder. The liquid comes into contact with the powder particles only, so the mixing drum is never contaminated.
Examples of powders mixed by Lindor powder mixers
Textile detergents (powders and agglomerates with liquid additives)
Dishwashing detergents (cubes, powders)
WC/Toilet cleaning agents (powders, granulates, cubes)
General cleaning agents (powders, beads, granules)
Technical specifications of the powder mixer
Batch volume: From 10 to 25,000 litres
Production capacity: < 500 kilos to 20,000 kilos per hour
Motor power: approx. 2 kW per ton of mixed product (0.5 kW to 50 kW per mixer)
Diameter of mixing drum: 0.3 metres to 3.6 metres
Advantages of a Lindor mixer for detergents and cleaning agents
Excellent homogeneity
Precise, uniform and homogeneous dosing and adding of several liquids to a powder
Particle integrity protection
Short mixing times (2 to 5 minutes)
Quick and easy to clean
Low energy consumption
Horizontal construction, moderate inlet/outlet height difference, resulting in low installation height
Low maintenance
Mobile versions
Options for powder mixer
Hygienic design
Heavy duty version
Explosion suppression, ATEX
Liquid injection
Gas injection
WIP – CIP cleaning
Cooling – heating – drying
Batch or continuous process
Vacuum, vacuum drying and vacuum coating
Mixing under pressure