Lindor processing technology at POWTECH
We will welcome you warmly to our stand 456 in Hall 4 at the next POWTECH in Nuremberg, from 26 – 28 September. We will be showing a selection of production and laboratory mixers which can be used for Food, Fine Chemicals, Polymers and Pharmaceuticals.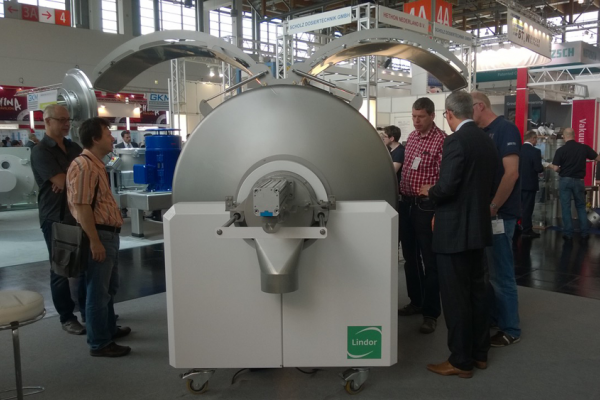 Our team with Dr. Michael Kaiser (sales manager Lindor Germany), Tim Simpson (sales director of sister company Winkworth), Bastiaan Soeteman (managing director Lindor, director Winkworth) and Michelle Haverkort (sales assistant Lindor) will show and discuss state of the art processing of powder and granulate.
Rotary vessel processing evolved
The Lindor range of machines has been in ongoing development for decades. This means that the company has always been able to respond to the constantly increasing requirements for precision of processing and quality of cleaning. The basic 'drum mixing' technique has evolved into the Lindor rotating vessel processing technology.
Coating, dosing, washing and more
Developments include continuous coating of granulate, dosing product straight after mixing into sacks, big bags or bins and fully automated washing and drying within 20 minutes, to name a few.
New ways to dry and sterilize products
Since the last POWTECH, important technical developments have resulted in the capability of Lindor machines also to apply vacuum and pressure. This is useful for drying powders, sterilizing products and the machine and for material handling.
Try the newest mixers in the test centre
A new test centre at our factory in Dordrecht (the Netherlands) has been built to support these developments and share them with customers from all over the world. Since the last POWTECH, Lindor has hosted customer delegations from Japan, Korea, USA, Colombia, Turkey, India and of course from European countries.
The largest range of mixers and process vessels
We share our stand with sister company Winkworth from the UK in Hall 4, stand 456 (easy to remember!). Together we offer the largest range of different mixers and process vessels in the industry. At the Lindor Winkworth Test Centres interested companies can arrange tests with their products on a variety of machines to compare the performance of these different machines on their products.