Muesli with m&ms for future technicians
During the Game On Drechtsteden technical event at the skating rink in Dordrecht on 4 and 5 June, we gave secondary school students the opportunity to make their own muesli. They grabbed this opportunity with great enthusiasm. "I'm taking a bag with me for breakfast tomorrow!", the students were often heard to say, however, most of them couldn't resist nibbling the raisins, nuts and m&ms straight away.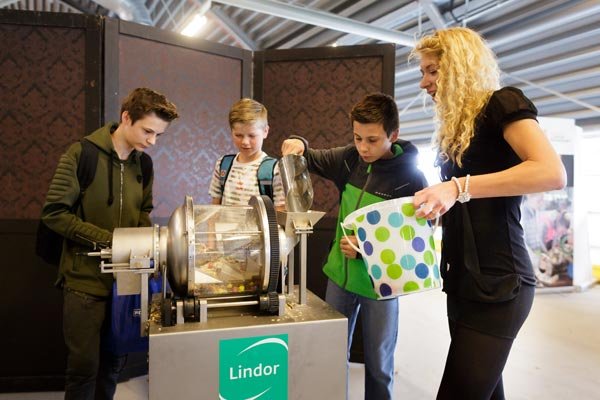 Preparing a responsible breakfast was not exactly the main aim of Game On Drechtsteden. The real purpose for the region's participating companies was to introduce secondary school students to technology, and ultimately to interest them in a career in this sector. Two years ago, Lindor was one of a handful of companies that took the initiative at Game On Drechtsteden. This time it was organised by FME, the trade body for the technology industry.
Growing interest
The event is becoming increasingly successful: the first event, which was organised two years ago, attracted 1250 participants. This time, there were no fewer than 1600 interested visitors.
Innovations have a huge appeal
The 25 participating companies at this event, which included machine and equipment manufacturers, were dispersed across five interactive market squares. And it wasn't only the muesli produced by our laboratory mixer that generated huge appreciation. New technologies such as robots, simulators and virtual reality were also popular.
Wide range
"The event gave an excellent overview of the kind of fun and interesting companies with amazing products that we have in our region", said our managing director, Bastiaan Soeteman.  "There was a wide range. For example, there was a welding company, a producer of high-tech instruments and an engine overhaul specialist."
A long-term investment in the future
For us, it was self-evident to contribute to this event. An innovative company like ours can only continue to lead the way when we have enough well-trained technical staff at all levels, from secondary vocational education (mbo) to technical universities. "We see it as a long-term investment that in 5 to 10 years' time, will allow more children to complete a technical study", Soeteman says.
Importance of technology
"When choosing their follow-up study, it is best for everyone to consider in greater depth whether a future in technology is something they would like", Soeteman explains. "In the Netherlands, not everyone realises how important technology is for our society and our economy. This initiative is a good way of highlighting this."
Successful collaboration
Marco Kirstenstein, Business Development Manager at FME and initiator of the event, said in a statement that he could look back on a successful event. "Thanks to the close collaboration between FME, partners, schools and, of course, all the participating companies, we were able to create something amazing here over the past two days!"